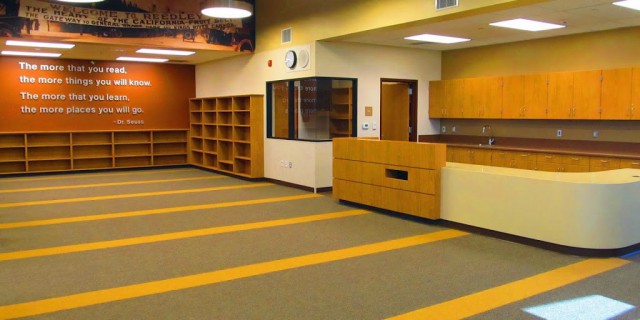 Education
Alta Elementary School New Library Ribbon Cutting!
06/11/14
http://www.reedleyexponent.com/articles/2014/06/11/opinion/doc53989bc738820168237590.txt
Reedley Exponent
by Felicia Cousart Matlosz
Published: Wednesday, June 11, 2014 11:19 AM PDT
More good news was celebrated on June 9 at Alta Elementary School, with a ribbon-cutting ceremony at the new library.
You'll find photos on page B8 (as well as bit of an introduction on B1).
The library is a dramatic change from the classroom that served as a library at the 420-student campus.
And it has some visual touches that make it welcoming and inspiring.
For example, there is a large-sized, eye-catching Dr. Seuss quote on one wall. I point it out in on both B1 and B8, but it's worth repeating: "The more that you read, the more things you will know. The more things that you learn, the more places you will go."
The idea came from Grant Dodson, an architect with Darden Architects. He also had the idea of using a photo motif based on an old photograph reflecting Reedley's history.
Dodson said working on libraries can sometimes allow an architect the opportunity to "give it a little bit of character."
In this case, he wanted the library to remind visitors not only of its function (hence the Dr. Seuss quote) but the school's long history in the community.
For Principal Vickie Nishida, who attended Alta as a child, the new library "is like heaven."
School officials also are making sure that "Mitchell Square" – named after Alta's longtime principal, Charles Mitchell – will be represented as part of the new library. Mitchell Square was a place with benches on the school grounds, where children would chat and read. A patio just outside the new library will serve as an outdoor spot for that same purpose.
Juan Garza, superintendent of the Kings Canyon Unified School District, said the governing board and district now have expanded or built a library at every campus in the district because libraries are integral to education.
The new Alta library, he said, is "going to be here for years and years to come for students and staff.
As Nishida put it: "This is a very special day for us."
Subscribe
Get all the latest posts
Subscribe
Get all the latest posts
Featured Services
We'll See You There
CASH 44th Annual Conference
February 22-24, 2023
We are looking forward to attending the CASH 44th Annual Conference at the Sacramento Convention Center on February 22-24, 2023