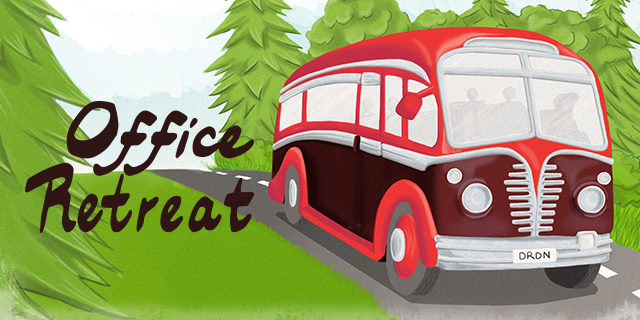 Office Culture
Darden Architects Office Retreat was Fun and Educational
09/27/16
Last Friday Darden Architects booked a charter bus and took the whole office on a road trip to see two recently completed projects: the New Yosemite Community College District office Building and Turlock High School's Gymnasium and Performing Arts Modernization.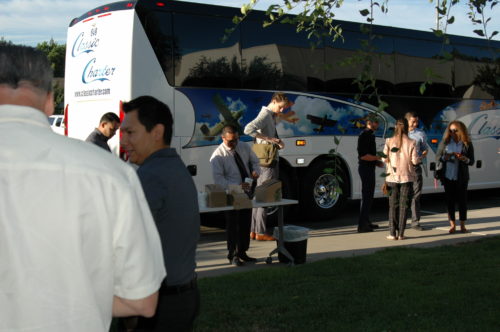 Our day began at 8 with coffee and pastries. We milled around the parking lot waiting for the charter bus to arrive and chatted. The office was closed and we were all ready for adventure. The charter bus arrived and everyone got on board.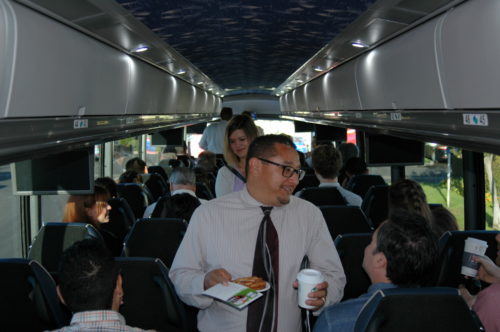 On the way up to Modesto Junior College West campus, the site of the new Yosemite Community College District Office Building, We played Bingo! Various raffle prizes were won, and we had some laughs.
Everyone got off the bus and took their first look at the building. The design style will be detailed in a future project profile, but in short, the building is a strikingly modern take on a "mountain lodge" style. Use of natural wood and stone contribute to a warm yet monumental entry. The low-water landscaping is understandably young, but promises to fill out nicely.
Our tour of the building was a fantastic opportunity for us all to share in the satisfaction of the collective effort. We are honored to have had the opportunity to work on this project for the District, Kitchell was excellent work with, and Acme construction has done an outstanding job.
After providing a little time to explore the site freely, everyone climbed back on board the bus and we headed to lunch. Just off 99, in Turlock California is the newly opened "Dustbowl Brewing Company." The building is very attractive, the food was delicious, staff attentive, the weather was perfect, and of course the Brews were fantastic!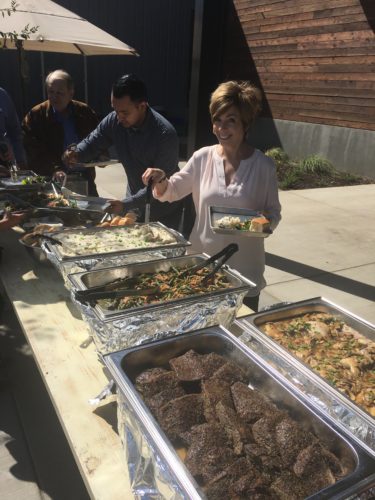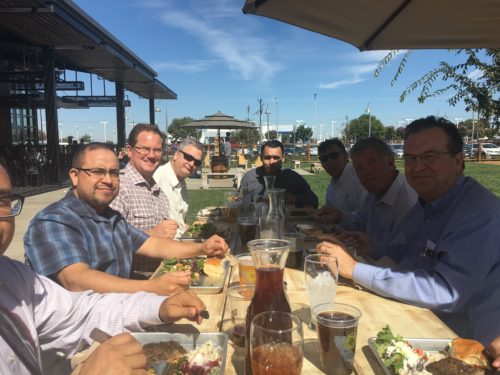 We enjoyed a buffet lunch and played cornhole for an hour or so before getting back on the road again.
The bus took us across town to Turlock High School where firm principal Grant Dodson lead the office on a tour of the recently completed Gymnasium and Performing arts remodel. More information on these projects will be featured in our project profiles soon.
We raffled off some prizes on the bus ride home, and gave everyone some time to rest. We are lucky to have such a good spirited team in the office, this was a special day for staff moral. Visiting these projects allows us to recognize and celebrate the hard work and talent of our design teams, and all those individuals who contribute in ancillary areas at Darden Architects. Special thanks to the Yosemite Community College District, Modesto Junior College, Kitchell, Acme Construction, Turlock Unified School District, The Facilities and Activities staff at Turlock High School and Dustbowl Brewing Company.
Subscribe
Get all the latest posts
Subscribe
Get all the latest posts
Featured Services
We'll See You There
CASH 44th Annual Conference
February 22-24, 2023
We are looking forward to attending the CASH 44th Annual Conference at the Sacramento Convention Center on February 22-24, 2023