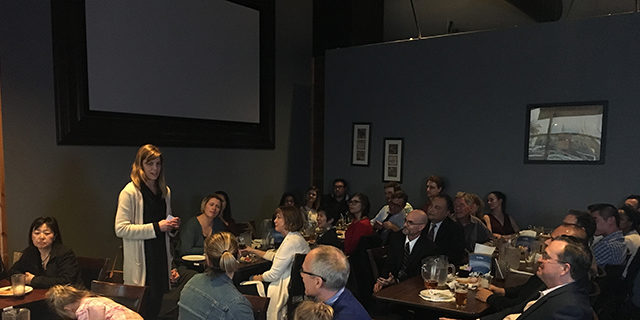 Office Culture
Elizabeth Gregor Receives her California Architectural Licence!
03/13/17
Last week the staff of Darden Architects gathered at the local Popolo's pizza parlor to celebrate Elizabeth Gregor's outstanding achievement. She has received her California Architectural License. Although Elizabeth was previously licensed out of State, and has been working in the field for some time, we believe it is important to celebrate this continued growth. It speaks to her commitment to professional development, and we are honored to count her among the ranks of architects here at the firm.
We enjoyed pizza, and raised a glass to toast Elizabeth. Firm Principals Marty and Bob spoke exceedingly well of her work and development. They praised her inquisitive and detailed nature, and made mention of the excellent work she has done with each project. Darden Architects makes a point to support the professional growth of our staff, and Elizabeth is a terrific example of this.
Elizabeth made a very nice speech for those in attendance
Inside jokes are fun
Martin Dietz, Elizabeth and Bob Petithomme
The Pizza at Popolo's is as huge as it is delicious!
Subscribe
Get all the latest posts
Subscribe
Get all the latest posts
Featured Services
We'll See You There
CASH 44th Annual Conference
February 22-24, 2023
We are looking forward to attending the CASH 44th Annual Conference at the Sacramento Convention Center on February 22-24, 2023