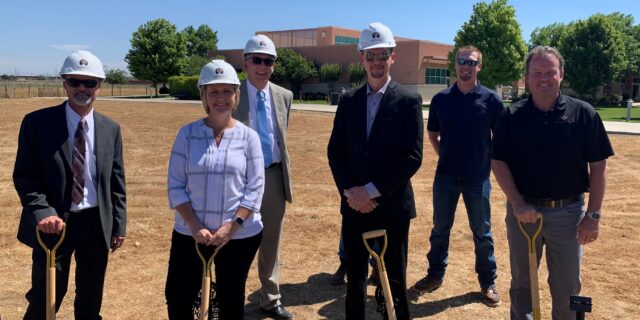 Education
Groundbreaking Ceremony for the new Raj Kahlon Agriculture and Industrial Technology Complex
06/01/21
A groundbreaking ceremony was held for the Raj Kahlon Agriculture and Industrial Technology Complex at Merced College in Merced, Calif., on Wednesday, May 26, 2021. This was a celebratory event on a "Historic Day" For the College. President Chris Vitelli Ph.D spoke about the "career readiness" of the future graduates. This specialized project was made possible by generous donations from local community representatives including Mr. Raj Kahlon for whom the facility is named. The new Agriculture and Industrial Technology complex will support exciting course offerings including animal science, plant science, sheet metal fabrication, manufacturing, multiple computer labs, an electronics lab, and multiple staff offices and meeting spaces. The complex has been designed as a rectangular building with an outdoor courtyard at its center. This central courtyard space will provide a location for students to gather and socialize, as well as sheltered location for outdoor learning. This is a very exciting project that embraces partnerships with local industry. We are looking forward to the outstanding opportunities the new Ag and Industrial Technology complex will present to students.
There was a video story covering the even posted on the Merced Sun-Star website:

An article about the event was also featured on the Merced County Times Website…
Congressman Costa added, "It fills me with pride that Valley students who want to dedicate their lives to agriculture production will have a new, high-tech facility to hone their craft," Costa said. "California agriculture feeds the world! I'm honored to have Lt. Gov. Kounalakishere to see how underserved students from the San Joaquin Valley have the opportunity to train for a career that has an impact across the globe."
Darden Architects would like to thank Merced College for the opportunity to work on this amazing project!
Subscribe
Get all the latest posts
Subscribe
Get all the latest posts
Featured Services
We'll See You There
CASH 44th Annual Conference
February 22-24, 2023
We are looking forward to attending the CASH 44th Annual Conference at the Sacramento Convention Center on February 22-24, 2023