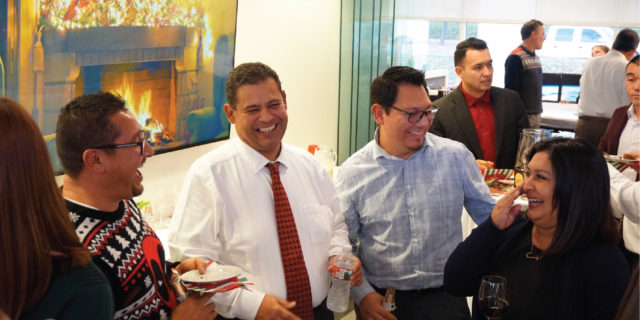 Office Culture
It was a festive and fun Christmas Party at Darden Architects
12/12/18
Last Friday afternoon the team at Darden got together to celebrate Christmas. We are thankful to have such a wonderful group here at the office. This is a special time of year and the party was a great opportunity to come together share our holiday cheer!
We were all pretty disappointed the week prior when the event space where we had planned to have our Christmas Party got flooded! we even had a "vintage" party theme that we had to ditch. But there is something about a more intimate gathering here at the office that always feels comfortable. Holiday music played as we took time to raise a glass and celebrate another successful year.
Plenty to be proud of. The firm won a number of awards this year, we've added some new staff members, and the projects we're working on promise a very exciting future. We are thankful for all of the consulting firms that we team with every day. It seems that our relationship grows stronger, and we're able to collaborate even better, with each project. To our clients we are deeply thankful. over the last year we've worked on some amazing projects that will add to the landscape of our community. We're proud of these opportunities to do what we love.
Darden is a great place to work. whether its no shave November, selling papers for valley children's hospital, or running a 5k for charity; the firm culture is vibrant as ever. Each member of our crew brings something special to our office mood and the work that we do. Its important to take time to recognize these gifts, and that's what the Christmas party is all about.
for more photos from the party check out our Facebook Post
Subscribe
Get all the latest posts
Subscribe
Get all the latest posts
Featured Services
We'll See You There
CASH 44th Annual Conference
February 22-24, 2023
We are looking forward to attending the CASH 44th Annual Conference at the Sacramento Convention Center on February 22-24, 2023