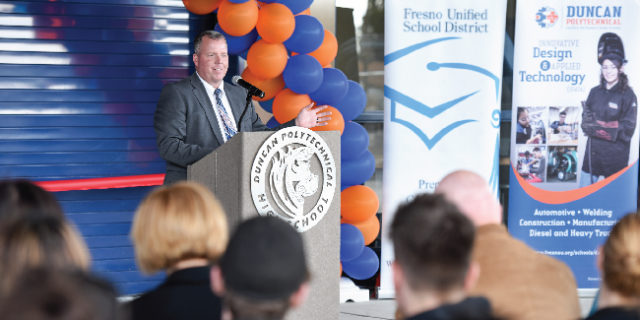 Education
Ribbon cutting for the new Innovative Design and Applied Technology Academy
03/22/19
Yesterday afternoon representatives from Fresno Unified School District, school staff and administrators, Industry reps and, of course students, gathered to celebrate the ribbon cutting for the new Innovative Design and Applied Technology Academy (IDATA) at Duncan Polytechnical High School.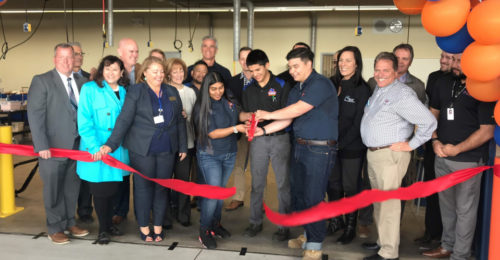 The project is comprised of two buildings with adjacent outdoor learning spaces. This unique facility will provide educational opportunities in the areas of Manufacturing, Welding, Auto Maintenance, Construction, and Heavy Truck Maintenance. These educational programs are aimed at preparing students for future careers.
The first building (19,000 SF) is an existing structure that is being modernized to house the welding stations, manufacturing equipment, and auto repair programs. Manufacturing will include space for robotics, 3D Printing and CNC Milling equipment. The building will also include a lecture room that can be split into two separate spaces for traditional teaching methods.
The second building (14,800 SF) is new construction and will include design features to support the Heavy Truck Maintenance and Construction Trades programs. The Heavy Truck Maintenance spaces will prepare the students to receive certification by NATEF (National Automotive Technician's Education Foundation) in 5 of their 8 areas of concentration. A standard classroom has been included where the students will first learn the various processes in a lecture setting.
In the larger laboratory space, the students will engage in hands-on exercises with the actual parts and pieces at mobile work stations and tables. Finally, the students will work with actual semi-trucks that can be driven into the lab space through the roll up doors. The indoor lab is designed to hold 3 heavy trucks. The outdoor pad space can house 2 more vehicles and will be used for emissions testing training. The lab space also includes a truck pit for accessing the undercarriage of the vehicles. The construction trades spaces includes equipment and layout space for woodworking and outdoor space to be used for activities such as digging practice trenches, building concrete footings, and constructing "tiny homes".
Video thanks to CBS 47 and Ksee24 at www.yourcentralvalley.com
For more photos of this project, check out our Facebook page.
Here's another fantastic article about the ribbon cutting and facility on www.truckpartsandservice.com
Subscribe
Get all the latest posts
Subscribe
Get all the latest posts
Featured Services
We'll See You There
CASH 44th Annual Conference
February 22-24, 2023
We are looking forward to attending the CASH 44th Annual Conference at the Sacramento Convention Center on February 22-24, 2023