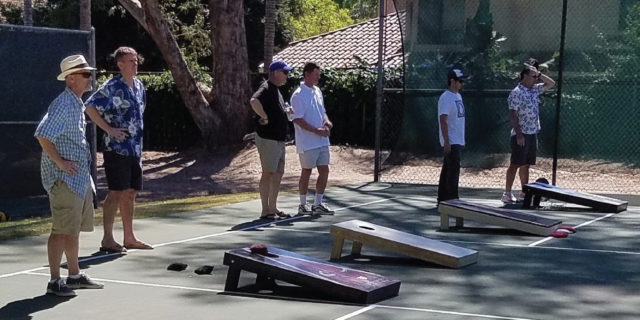 Office Culture
The 2017 Darden Architects Summer Picnic was a Blast
06/14/17
Last weekend, the Darden Architects staff, along with their friends and family, gathered for a Picnic to usher in the summer. The weather was perfect and everyone had a terrific time.
Pat Bares, our lead cost estimator, played "Grillmaster" and arrived early to smoke the tri-tip lunch. The food was delicious and we're very thankful for his hard work.
The pool at the Sierra Sport and Racquet Club in Fresno was pristine, and the kids swam throughout the day.
And as usual, the Cornhole tournament was hard-fought.
With spectators looking on, the reigning champions Marty (Firm Principal) and Andrew (Firm Associate) were dethroned by the dynamic duo of Greg Pope (Project Manager) and his daughter Sarah. Greg and Sarah will have their work cut out for them defending the title in two years at the next barbecue.
We are thankful for opportunities to spend quality time together outside of the office. It is events like this, that contribute to the active and welcoming culture at Darden Architects.
For more photos, visit our Facebook page
Subscribe
Get all the latest posts
Subscribe
Get all the latest posts
Featured Services
We'll See You There
CASH 44th Annual Conference
February 22-24, 2023
We are looking forward to attending the CASH 44th Annual Conference at the Sacramento Convention Center on February 22-24, 2023