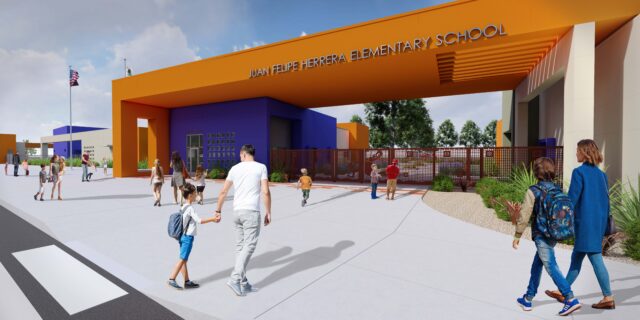 Education
The New Juan Felipe Herrera Elementary School in Fresno Unified is Coming Soon!
10/28/20
From the ABC30 news story released on October 27, 2020:
FRESNO, Calif. (KFSN) — The construction of a local school is providing unique learning opportunities for Fresno Unified students of all ages. Work is well underway at Juan Felipe Herrera Elementary School and thanks to a unique labor agreement, the new site will serve much more than just its elementary students. "It is kind of a big deal to say we're going to build a school that benefits both our current and former students," said FUSD Executive Officer of College and Career Readiness Jeremy Ward.

For the complete story visit ABC30.com
Special thanks to Shayla Girardin for her work on this story.
Fresno Unified School District serves more than 74,000 students, from preschool through grade 12, preparing career ready graduates through high-quality instruction, district programs and services, and resources.  This new elementary school is meant to enhance their existing programs and relieve overcrowding in a fast-growing area of Fresno.
Juan Felipe Herrera
The school will be named after Juan Felipe Herrera, a famous local poet, writer, teacher, activist. Herrera was the 21st United States Poet Laureate from 2015 to 2017.  The design team had the honor to meet with Mr. Herrera himself to draw design inspiration.  Mr. Herrera has said that his experience as a campesino and Mexican traditions have strongly influenced his works.  The design style of this new campus pulls from these roots.
Entry Gate featuring Mexican folkloric, Traditional Hmong, Country Line dancers, and more
This style is boxy, simple, without much adornment, yet sophisticated.  It is colorful, which fits this younger student demographic.  This style lends itself to the high use of plaster, which is one of our most typically used and economical building systems for an exterior skin and uses color, light, shade and shadow and scale to achieve its distinct architectural style.
Administration and Library
The design style is carried throughout the project and into the interior.  Exterior design elements such as the punched opening and long narrow openings are used in the interior furnishings and spaces.  The strong use of color is carried to the interior and used on accent walls to help delineate and invigorate spaces.  Spaces for the display of artwork have been incorporated to showcase student artwork and provide a venue for rotating community artists to be able to display their work.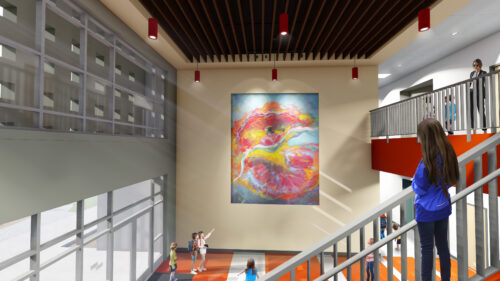 Integrated Art Display
The needs of the community have been incorporated into the design of this campus with a community health clinic, access to the library, a dedicated music classroom, and parking, snack bar, restrooms and playfields that are intended for after-hours community use. The design of this school is centered around effective utilization of the site while maintaining site safety and security.  The dynamic color and structures create a unique campus identity. It is believed that this bold take on the traditional elementary school design will become a source of pride on campus and in the community. Darden Architects is thankful to Fresno Unified School District for the opportunity to work on this exciting project in our community.
Note: The design renderings included in this article are not finalized and do not represent the final appearance of the school.
Subscribe
Get all the latest posts
Subscribe
Get all the latest posts
Featured Services
We'll See You There
CASH 44th Annual Conference
February 22-24, 2023
We are looking forward to attending the CASH 44th Annual Conference at the Sacramento Convention Center on February 22-24, 2023