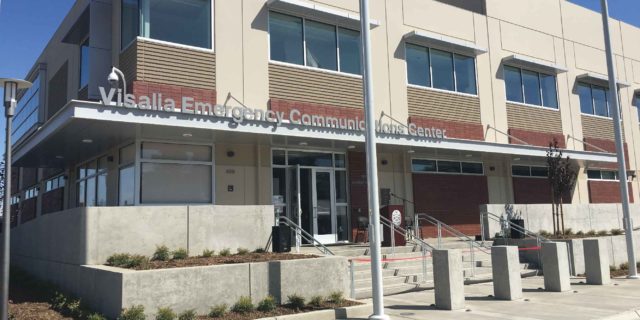 Uncategorized
Visalia Emergency Communications Center Grand Opening
10/02/17
"After decades stuck in a basement of a dilapidated building, Visalia dispatchers and fire officials have a new home.
But it almost didn't happen.
Visalia City Manager Mike Olmos said discussions about developing a civic center on the east side of downtown Visalia have gone on for about 15 years. City officials decided about six years ago to build it in the vacant lot, bordered by East Center Avenue on the south and East Goshen Avenue to the north, and North Ben Maddox Way to the east and North Burke Street to the west.
"The city has committed to further develop this building and grow our city facilities," he said. "This is a key area for the city and the downtown."
What was once an overgrown field and well-known homeless camp is now the Visalia Emergency Communications Center.
"The safest building in town," officials said….
For the full article please visit The Visalia Times-Delta 
Darden Architects worked on this important project with  McClaren, Wilson & Lawrie, Inc., LPA Architects
Construction Manager: Griffin Structures, Inc.
General Contractor: Oral E. Micham, Inc.
Subscribe
Get all the latest posts
Subscribe
Get all the latest posts
Featured Services
We'll See You There
CASH 44th Annual Conference
February 22-24, 2023
We are looking forward to attending the CASH 44th Annual Conference at the Sacramento Convention Center on February 22-24, 2023