Education
A Closer Look at Educational Centers
12/03/15
Darden Architects is on the forefront of educational facility design and master planning innovations. Our firm is especially known for our "educational center" master plan concept, which we conceived in the early 1990s to provide school districts with an effective, economical solution to the need for new schools to house a continually growing student population. At the California's Coalition for Adequate School Housing's Annual Conferences, Darden Architects has given multiple workshop presentations to educators and architects about the planning intricacies, advantages, and funding opportunities related to the "educational center" concept.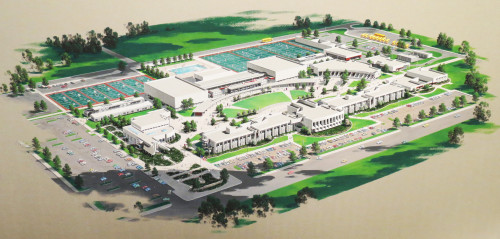 Buchanan Educational Center, Clovis Unified School District
Clovis North High School/Alta Sierra Intermediate School/Garfield Elementary School
The "educational center" incorporates multiple school campuses (elementary, intermediate, and high schools, and/or community college) on a single site. The schools share common facilities, reducing the overhead costs required to operate the schools and allowing for the expansion of student support services.
The schools within the center work collaboratively to provide effective programs while minimizing duplication of services. The center also cultivates the use of cross-age and peer group tutoring, as well as other contemporary learning and teaching methods.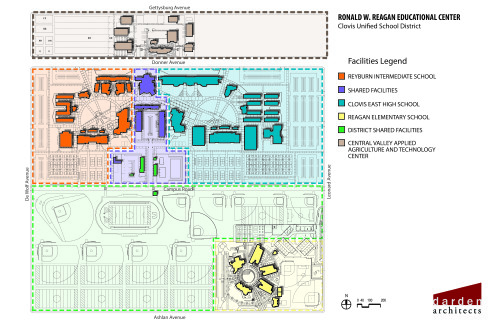 Ronald W. Reagan Educational Center, Clovis Unified School District
Note the shared facilities
The first of these centers, housing about 5,000 students, was the Buchanan Educational Center for Clovis Unified School District. It opened in 1992 and received design awards and recognition among educators. The overwhelming satisfaction of the Buchanan Education Center convinced the school district to utilize the same concept for the Reagan Educational Center and Clovis North Educational Center.
2012 CASH/AIACC Leroy F. Greene Design and Planning Awards,
Award of Honor in Master Planning
Clovis North Educational Center, Clovis Unified School District

Darden Architects has also master planned and designed the Delano Educational Complex, an elementary and intermediate school on one site, for the Delano Union School District.
The firm has also adapted the "educational center" concept to joint-use facilities, such as the Hanford Learning Center. Developed through a joint agreement between the local city, high school district, and college, the Center houses a high school, full-service community college campus, and ample recreational and athletic facilities to serve the needs of the schools and the community.
Our Educational Center projects include:
Hanford Learning Center; Hanford Joint Union High School District/College of the Sequoias/City of Hanford
Buchanan Educational Center; Clovis Unified School District
Reagan Educational Center; Clovis Unified School District
Clovis North Educational Center; Clovis Unified School District
Delano Educational Complex; Delano Union School District
For more information and photos of our work on Educational Centers CLICK HERE
Subscribe
Get all the latest posts
Subscribe
Get all the latest posts
Featured Services
We'll See You There
CASH 44th Annual Conference
February 22-24, 2023
We are looking forward to attending the CASH 44th Annual Conference at the Sacramento Convention Center on February 22-24, 2023