Education
FUSD Celebrates the Dedication of Phillip J. Patino School of Entrepreneurship
10/12/15
Today was a very special day for Fresno Unified School District. Superintendent Michael Hansen, Board Members, staff, Students and over 50 members of the Patino family gathered to dedicate the new Phillip J. Patino School of Entrepreneurship.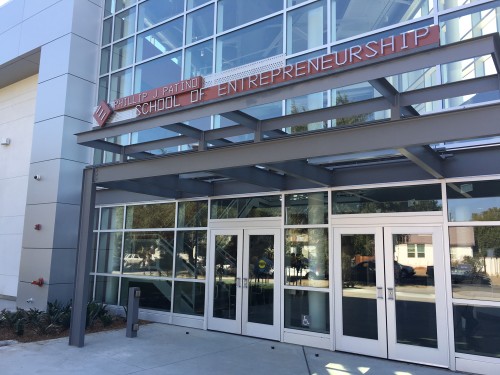 This is the first school of it's kind in the nation. Students will learn all standard courses of study through the lens of entrepreneurship. They will be guided by both teachers and members of the regional business community toward the creation of their own businesses, which they will run during their senior year. It's a very unique educational experience for the students. Instead of the normal Student body President, Vice-President etc; Students have elected a CEO and CFO and other Business related leadership positions.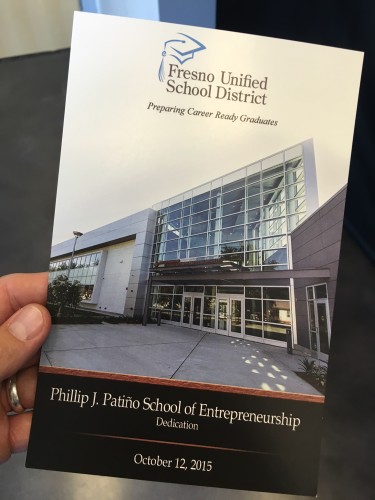 The goal with the design of this revolutionary school was to create a "cool" learning environment. The design style is distinctly modern and reminiscent of a leading edge office environment. early design ideas set a trajectory for a final product that is equal parts contemporary school facility, part Apple corporate office. All furniture in the classrooms are mobile to encourage group learning and ease of collaboration.
Phillip J. Patino was a long time FUSD teacher and administrator. His legacy was celebrated in grand style, with a veritable family reunion worth of Patino's in attendance. Phillip J. Patino's son Arthur spoke of how his father would have embraced the educational ideology to be upheld at this school. The excitement was palpable as the family posed for a photo with the memorial plaques to be installed near the school's entrance (Photo Above).
Darden Architects was overjoyed to take part in this momentous occasion. It has been our pleasure to support the construction of this groundbreaking, one-of-a-kind school. Special thanks to the Fresno Unified School District, School Principal Dr. Brett Taylor, and all those with whom we collaborated to make this project possible.
Stay tuned for photos of this amazing new school…
Subscribe
Get all the latest posts
Subscribe
Get all the latest posts
Featured Services
We'll See You There
CASH 44th Annual Conference
February 22-24, 2023
We are looking forward to attending the CASH 44th Annual Conference at the Sacramento Convention Center on February 22-24, 2023