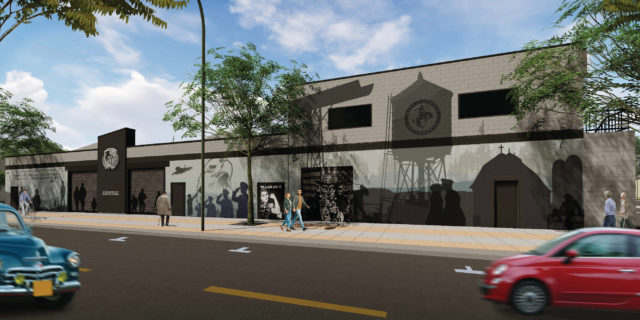 Community Involvement
Clovis Roundup: "CVMD's Community Heritage Center Set For Fall Opening"
02/24/20
Clovis Veterans Memorial District's (CVMD) Community Heritage Center is a three phase project lead by Darden Architects in Clovis, CA. The center will serve the local community while reflecting the mission and values of CVMD.
The Community Heritage Center features a custom mural that wraps around the building, representing the community, telling the story of the different conflicts the US has been involved in, and concluding with a tribute to the future and the depiction of service members coming home. The mural was designed by Tim LaBuda with direction and input from the Clovis Veterans Memorial District Board.
Quote from the Clovis Roundup article 2/19/2020 by Ron Camacho:
…"The goal is to be an immersive learning environment that is inviting, warm and receptive, and that reminds us of our past, recognizes our current realities and how the past has built today. But it also looks to the future with excitement because the past has prepared us for that," Rios said.
The CVMD is collaborating with other Clovis-based community organizations on the project. The district already brought in the Clovis Hall of Fame, which is providing an exhibit showcasing its recipients…
For the complete article, click here.
Subscribe
Get all the latest posts
Subscribe
Get all the latest posts
Featured Services
We'll See You There
CASH 44th Annual Conference
February 22-24, 2023
We are looking forward to attending the CASH 44th Annual Conference at the Sacramento Convention Center on February 22-24, 2023