Office Culture
Darden Architects' Annual Christmas Extravaganza!
12/17/19
The holiday spirit is all around the office at Darden Architects and it was an especially magical afternoon last Friday for the annual office Christmas Party! The event featured holiday window painting, food trucks, a gift exchange, and lots of laughs! The Firms Associates took the lead in planning the event and the entire Interior Design Studio was decked out in holiday decorations.
The festivities began with staff voting for their favorite holiday window art. There were 10 windows to choose from and the competition was fierce. Folks had come up with all manner of Christmas creations. In the end it was the Interior Design Studio team and their cozy fireside scene that took all three prizes!
The event was catered by 4 amazing food trucks/vendors: Quesadilla Gorilla was grilling up some delicious fresh mexican food. The Meltdown Bistro Truck was slinging gooey grilled cheese sandwiches with pulled pork and loaded tater tots. Meanwhile Ooh-de-lolli was serving artisanal popsicles and ice cream sandwiches for dessert, with Jitters brewing hot specialty coffee drinks.
Perhaps the most fun and funny part of the afternoon was the massive gift exchange. Some hilarious gifts were opened with cutthroat stealing action. Every year this is a standout part of the party that everyone looks forward to.
Finally the Darden Architects' staff gathered to thank the partners for their leadership throughout the year. It was a successful and enjoyable 2019 at Darden Architects and we are excited to see what 2020 has in store. Special thanks to our clients, Consultants and community for your collaboration and support. Merry Christmas and Happy New Year!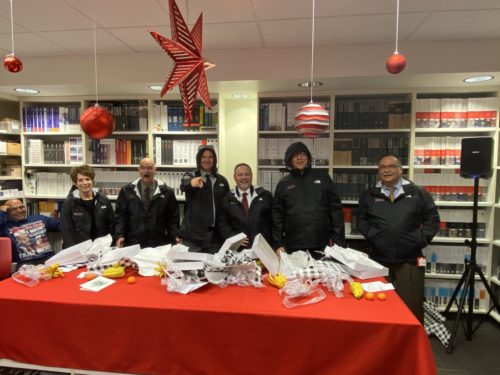 Check out ALL THE PHOTOS from the event at our Facebook Page.
Subscribe
Get all the latest posts
Subscribe
Get all the latest posts
Featured Services
We'll See You There
CASH 44th Annual Conference
February 22-24, 2023
We are looking forward to attending the CASH 44th Annual Conference at the Sacramento Convention Center on February 22-24, 2023