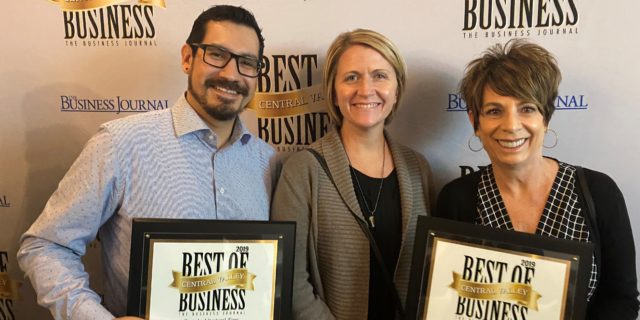 Community Involvement
Déjà vu as Darden Architects wins Best Interior Design Firm and Best Architectural Firm yet again!
12/03/19
Last night we attended the reception for The Best of Business Awards at Ruth's Chris Steakhouse, Where the 2019 winners would be announced. Darden Architects was honored to win in 2 categories yet again! Over 160,000 votes were cast to determine the best Central Valley Businesses and Darden was voted BEST ARCHITECTURAL FIRM and BEST INTERIOR DESIGN FIRM. This is the 6th consecutive year that Darden has won best Architectural firm, and the 4th consecutive year for Best Interior Design Firm. We are honored to receive this recognition and extremely thankful to all those who cast their votes.
The Business Journal Publisher Mr. Gordon Webster announcing the winners in each category.
Leslie Rau and DeDe Darnell accepting the award for Best Interior Design Firm. This is the 4th year in a row that Darden Architects has received this honor.
And of course we want to offer special thanks to the Central Valley Business Journal for organizing this event each year. It takes a great deal of effort to organize the competition and reception and  as always the business journal handled it flawlessly. We appreciate that several additional measures were taken to prevent nominees from "Stuffing the ballot." A ballot could only be completed once on any device and required an email be provided. These layers of control make the competition more fair and add to the legitimacy to the awards. We are proud to be recognized among a group of such outstanding central valley businesses.
A special morning reception at Darden Architects to celebrate the victory!
Tony Avila speaking to the Darden team about the importance of the awards and how it is the result of our hard work and commitment to excellence.
To celebrate this success, we held a little coffee and nibbles reception at the office. Tony Avila and DeDe Darnell spoke about how this reflects well on the work that we do, and how we are seen in the valley. We all feel terrific pride to work for such an amazing company and we look forward to many more years of excellence in our community!
Subscribe
Get all the latest posts
Subscribe
Get all the latest posts
Featured Services
We'll See You There
CASH 44th Annual Conference
February 22-24, 2023
We are looking forward to attending the CASH 44th Annual Conference at the Sacramento Convention Center on February 22-24, 2023