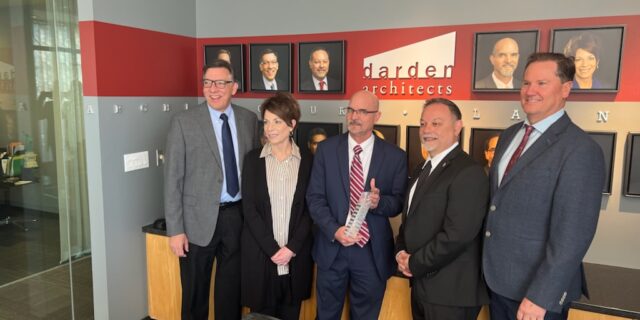 Community Involvement
Darden Architects has received the "Harold Zinkin Entrepreneur of the Year Award"
03/01/22
Darden Architects was honored to receive the Harold Zinkin Entrepreneur of the Year Award for 2022. We are thankful to the Fresno Chamber of Commerce for administrating this award program and are proud to be considered among the other award recipients. We are not aware of who nominated our firm, but we are humbled by this recognition. Darden Architects has been a staple of the A/E/C industry in the central valley for over 60 years and our success is thanks to the lasting relationships we have built with our clients and consultants. On behalf of all the staff at Darden Architects, past and present, we thank you for this award.
The Fresno Chamber of Commerce award description: "This prestigious award is presented to an outstanding individual from the Central Valley who has demonstrated exceptional vision, innovation, and leadership in the establishment and development of an owner-led business.  The judges will look for clear identification of a market opportunity, an innovative product, an innovative approach, the ability to market the product beyond the valley, and evidence of strong financial performance in terms of sales and profit growth."
An excerpt from the recent article in the Business Journal "Darden Architects, a Fresno Architectural, planning and interior design firm, won the Harold Zinkin Entrepreneur of the Year Award, which goes to an established Fresno area business that delivers exceptional vision, innovation and leadership while significantly contributing to local commerce." Click Here to view the full article.
Last Thursday night the Central Valley business awards were televised on Ksee24. Here is the video of that broadcast in full:
Subscribe
Get all the latest posts
Subscribe
Get all the latest posts
Featured Services
We'll See You There
CASH 44th Annual Conference
February 22-24, 2023
We are looking forward to attending the CASH 44th Annual Conference at the Sacramento Convention Center on February 22-24, 2023