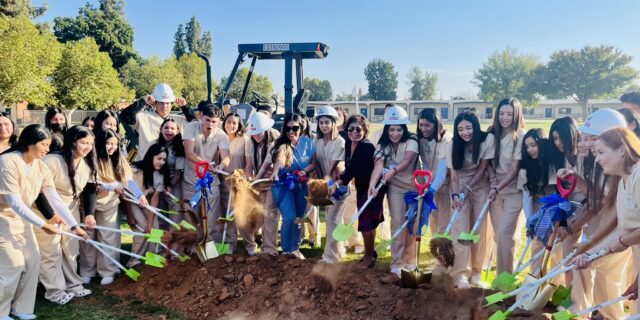 Education
Groundbreaking Ceremony at Parlier High School
10/17/22
Last week Parlier Unified School District held the groundbreaking ceremony for the new CTE building at Parlier High School. This was a well-attended celebration of growth and opportunity for education in the District. Darden Architects designed the new building and it is being constructed by BMY. This is an important project for Parlier High School and will provide a venue for high-level CTE learning. "It is a pleasure to work alongside our design team in making Parlier Unified's new Medical Pathway CTE facility a reality. I look forward to continued involvement on the project through construction." said project manager Pilar Pereyra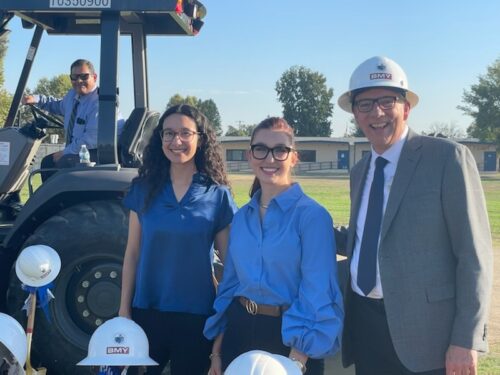 [from left to right] Gerry Padron, Pilar Pereyra, Cori Bradbury, Grant Dodson
The new 7,929 Square foot CTE building will provide dedicated space for the medical careers and nursing. Each of these areas of study will be supported by an adjacent exam simulation space. This configuration of spaces will allow teachers to provide theoretical/overview instruction in the lecture area and then transition the class over to the simulation space for practical application. This building will also offer two large teaching spaces for Criminology Courses and other pathways. Finally, the program for the building includes prep and collaboration space. With additional costs due to recent increases in the price of building materials, the final price tag is estimated to be approximately 7 million dollars (1.5 million State Funds, 1.5 million Local Bond, 4 million ESSER Funding). This groundbreaking marks the start of construction, which is expected to be completed in October 2023.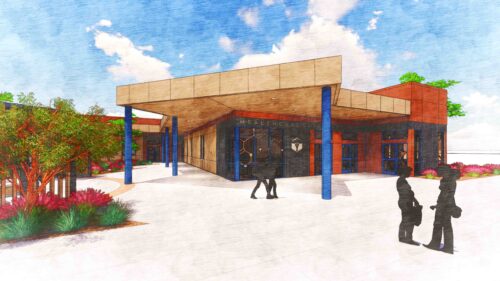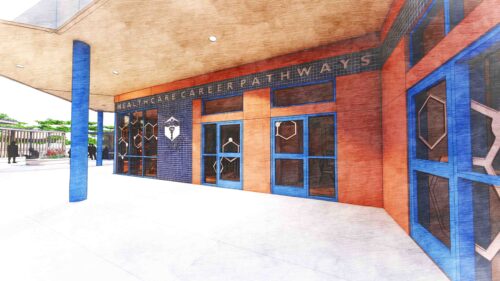 Superintendent Dr. Gracie Guerrero spoke about the project and what it means for the school and community. "I know this project holds a special place in our hearts since it is a
concrete way in which we support the learning environment and contribute to the medical services needed in our community. We appreciate all of you, who have been with us every step of the planning process, for having faith and supporting us so that this day would finally come."
Career technical education is growing in Parlier and throughout the Central Valley because of the need to prepare career and college ready high school graduates. Grand Dodson, AIA with Darden Architects spoke to the assembled crowd about how education in a pathway such as heath careers, where there is such a great need for professionals in our region, provides a sense of security for the students, parents and community. We are proud to partner with Parlier Unified School District for this exciting project!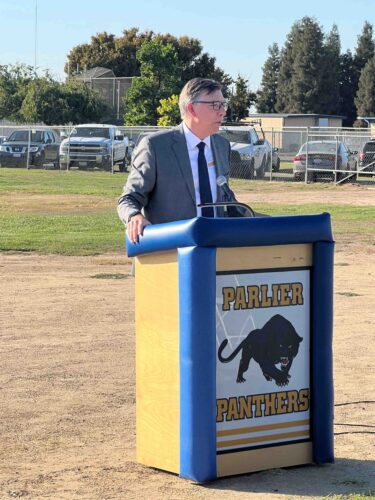 Subscribe
Get all the latest posts
Subscribe
Get all the latest posts
Featured Services
We'll See You There
CASH 44th Annual Conference
February 22-24, 2023
We are looking forward to attending the CASH 44th Annual Conference at the Sacramento Convention Center on February 22-24, 2023