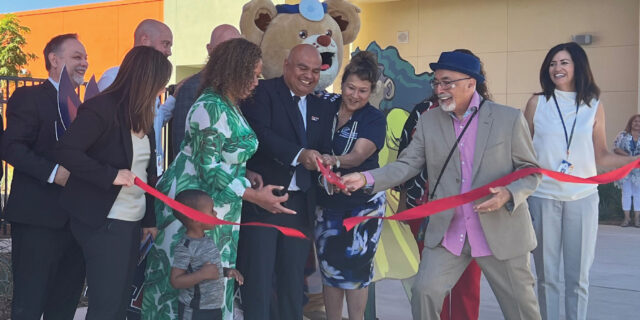 Education
Juan Felipe Herrera Elementary School Ribbon Cutting
08/22/22
This morning, attendees from the Fresno area gathered to celebrate the grand opening of the new Juan Felipe Herrera Elementary School in Fresno Unified School District. Speakers included district superintendent Bob Nelson, who spoke about how this was the first STEAM elementary school in the district. Every aspect of the school is integrated to support learning in science, technology, engineering, arts, and math.
"Can we just say how much more beautiful Herrera is than any other elementary school you've ever seen?"
The program for the event also included words from principal Dr. Naranjo, and several district board of trustees members. The main event, however, was the namesake of the school Mr. Juan Felipe Herrera himself!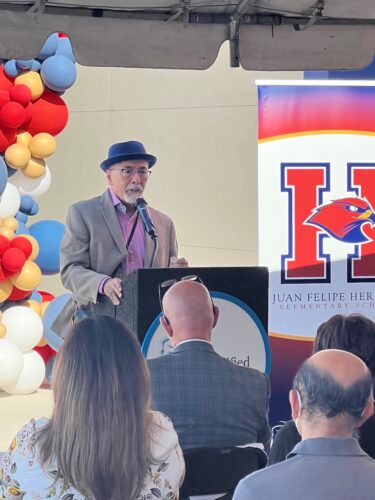 "Its a beautiful thing when our peoples come together, like you have. When our superintendent, and our trustees, and our teachers, and our community, and those that have sponsored this school come together to build this school. And the dream has come true, and the hope has flourished. This school is a story of our families. It may not look like a story, but it's made out of our stories. Its made out of our dreams. It's made out of every inch that we traveled. Out of every moment of inspiration. It's made out of all those songs we sang. Those little songs we sang in out little rooms and trailers. This is the big song. This is all our voices."
Fresno Unified School District serves more than 74,000 students, from TK through grade 12, preparing career ready graduates through high-quality instruction, district programs and services, and resources.  This new elementary school is meant to enhance their existing programs and relieve overcrowding in a fast-growing area of Fresno. As was previously mentioned, the school is named after Juan Felipe Herrera, a famous local poet, writer, teacher, activist of Latino descent. 
The design team was able to meet with Mr. Herrera himself to draw design inspiration.  Mr. Herrera has said that his experience as a campesino and Mexican traditions have strongly influenced his works.  The design style of this new campus pulls from these roots. This style is without much adornment, yet sophisticated, and features bold colors throughout.
The design style is carried throughout the project and into the interior.  The strong use of color is carried to the interior and used on accent walls to help delineate and invigorate spaces.  Spaces for the display of murals have been incorporated to showcase notable artwork including this piece by Alfredo Arreguin.
The needs of the community have been incorporated into the design of this campus with a community health clinic, access to the library, a dedicated music classroom, and parking, snack bar,  restrooms and playfields that are intended for after-hours community use. The design of this school is centered around effective utilization of the site while maintaining site safety and security.  The dynamic color and structures create a unique campus identity. It is believed that this bold take on the traditional elementary school design will become a source of pride on campus and in the community.
This was a celebration day for this community and we are proud to be a part of it. The ribbon was cut and photos were taken in front of the new school. we look forward to hearing about the amazing learning opportunities this school will offer to the students. Big thanks to our design team for their partnership. also, our sincere thanks to the school district for the chance to work on this project. we look forward to sharing professional photos of the school soon.
Subscribe
Get all the latest posts
Subscribe
Get all the latest posts
Featured Services
We'll See You There
CASH 44th Annual Conference
February 22-24, 2023
We are looking forward to attending the CASH 44th Annual Conference at the Sacramento Convention Center on February 22-24, 2023