Education
Sierra Pacific High School's New Library and Administration Building
08/14/20
The long-range facilities master plan for Sierra Pacific High School lays out growth of the campus in incremental phases. The newly constructed Library and Administration Building, the latest completed phase in the master plan, add several important spaces to the school. This includes freeing up several teaching spaces that previously housed the administration to be used for their intended purpose.
Main Administration Entrance
The easily identifiable Administration Building serves as a clear point of entry to the campus. Upon entering, visitors are greeted with a welcoming reception desk, and the Sierra Pacific High School Logo painted largely on the wall behind it. The lobby features a large mural of mountains and a bear, natural wood slats, and large hanging light fixtures. The Administration portion of the building houses the reception area, a health center, 14 offices, a workroom, four conference rooms and a quiet room.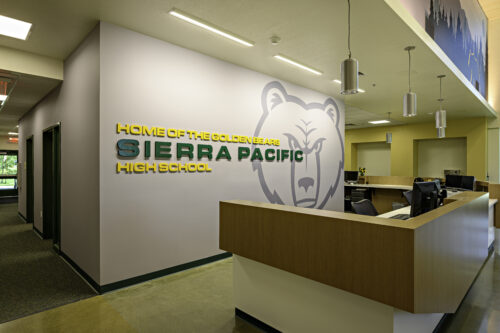 Administration Desk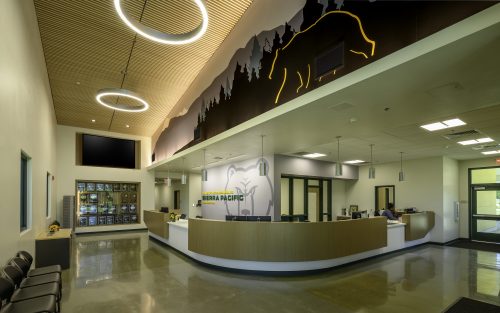 Grizzly and mountains wall graphic
From the campus core, students enter through a lobby that separates the administrative wing from the library. The design of the new technology-ready library stepped away from the traditional book stacks and instead features break out spaces, a large computer area, huddle rooms for students to work together, and a projector-ready classroom whose operable glass wall opens into the main library space. The library is large and open to accommodate different functions and furnished with flexible furniture to support multiple learning modalities. The library and study rooms were designed to be flexible in their use, and the abundance of natural light from the south facing window wall in combination with the large light fixtures creates a bright and active learning environment.
Library circulation desk
Main library workspace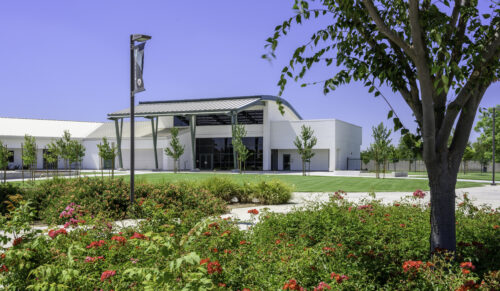 On the eastern side of the campus, a brand-new competition-size aquatics center has been constructed, per the master plan. The new aquatics complex is the first of its size in the city and will serve Hanford Joint Union High School District's three high schools as the primary location for aquatic competitions. The pool is accessible for students through Sierra Pacific High School's campus, and to visitors from the City of Hanford's parking lot, nested between the campus and the City's softball diamond complex.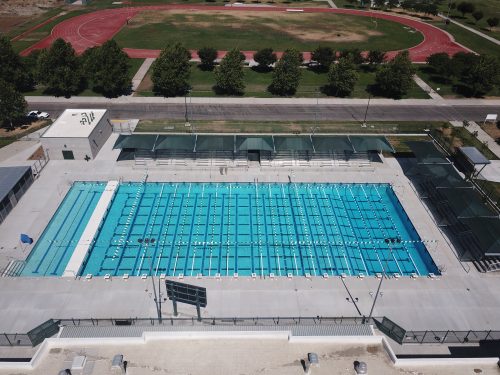 Subscribe
Get all the latest posts
Subscribe
Get all the latest posts
Featured Services
We'll See You There
CASH 44th Annual Conference
February 22-24, 2023
We are looking forward to attending the CASH 44th Annual Conference at the Sacramento Convention Center on February 22-24, 2023