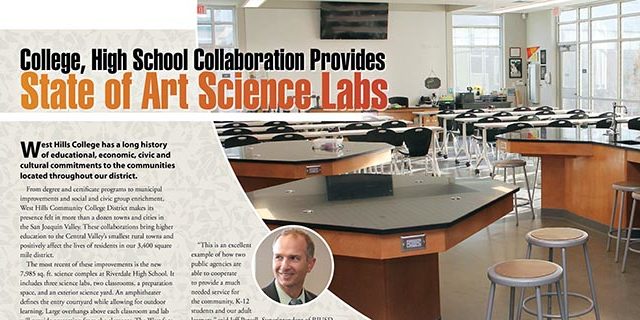 Education
West Hills Magazine: "College, High School Collaboration Provides State of Art Science Labs"
12/20/16
Darden Architects' project Riverdale High School Science Complex Addition was recently featured in "West Hills Magazine":
College, High School Collaboration Provides State of Art Science Labs
West Hills College has a long history of educational, economic, civic and cultural commitments to the communities located throughout our district.
From degree and certificate programs to municipal improvements and social and civic group enrichment, West Hills Community College District makes its presence felt in more than a dozen towns and cities in the San Joaquin Valley. These collaborations bring higher education to the Central Valley's smallest rural towns and positively affect the lives of residents in our 3,400 square mile district.
The most recent of these improvements is the new 7,985 sq. ft. science complex at Riverdale High School. It includes three science labs, two classrooms, a preparation space, and an exterior science yard. An amphitheater defines the entry courtyard while allowing for outdoor learning. Large overhangs above each classroom and lab will provide protection from the elements. The West face of the building is clad with perforated metal deck screens to provide sun protection.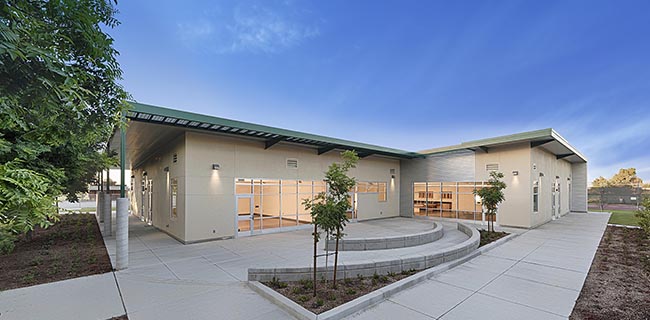 A reception was held at the new facility to celebrate the official opening and the joint partnership between WHCCD and Riverdale Joint Unified School District at the Community Education Center in Riverdale.
"West Hills College is committed to the citizens of our community and the students we serve and this is just one more demonstration of that commitment," said Dr. Kristin Clark, President of West Hills College Lemoore.
"These newly renovated classrooms are state-of-the-art and will better prepare students for transfer to college and careers within our community. Through this partnership, West Hills College Lemoore will also offer college-level courses in the evenings and weekends in an effort to reach more students within our community."
WHCCD's $800,000 contribution to this project and a similar $2 million project now underway in Avenal was made possible by voter approval of Measure E in 2008.
"This is an excellent example of how two public agencies are able to cooperate to provide a much needed service for the community, K-12 students and our adult learners," said Jeff Percell, Superintendent of RJUSD. "There's certainly a benefit to our students during the course of their daily instruction to have access to state of the art facilities."
Riverdale is 25 miles southwest of Fresno in the heart of prime agricultural land. Farming and farm related enterprises are the principal businesses for the area. Riverdale Joint Unified School District is a K-12 school district with four schools and provides services to approximately 1,600 students, a student body which is ethnically and culturally diverse.
A similar project is nearing completion in Avenal. WHCCD contributed $2 million from the bond issue toward labs at Avenal High School. Two existing labs are being remodeled and updated with all new equipment. One lab is designed with a college level pod design to allow for maximum collaboration between students and instructor. A second lab has a traditional science/classroom layout that allows for flexibility by providing movable science furniture. Both labs have access to storage and prep rooms for a complete science teaching environment. Lecture space is also added.
The project also modernizes adjacent restrooms to meet current ADA standards. In addition, the main entrance is being brought up to current accessibility codes by upgrading the front parking and path of travel to the main entry. Occupancy is scheduled for the start of the Spring 2017 semester.
The project is a joint project between WHCCD and Reef-Sunset USD. Science labs will be used by Avenal High School during the daytime, making the space available for college classes to be offered in the evenings.
The Avenal project was nearing completion as West Hills Magazine went to press. Officials say it will be ready for occupancy in January 2017.
Source:
West Hills Magazine, Fall 2016
Follow this link if  you would like to read the entire magazine. http://www.westhillscollege.com/district/news_&_events/magazine/issue7/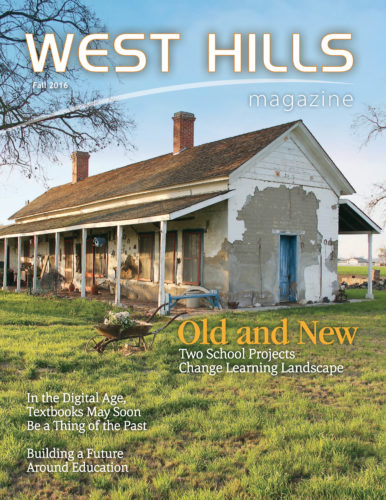 Subscribe
Get all the latest posts
Subscribe
Get all the latest posts
Featured Services
We'll See You There
CASH 44th Annual Conference
February 22-24, 2023
We are looking forward to attending the CASH 44th Annual Conference at the Sacramento Convention Center on February 22-24, 2023