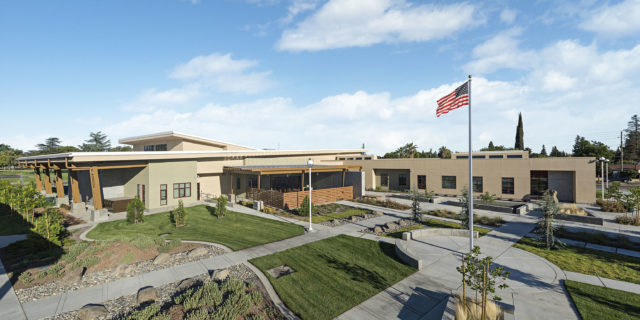 Education
YCCD District Office Building Receives ZNE Schools Leadership Award
11/05/18
From the New Buildings Institute (NBI) Press Release October 30, 2018:
Five exemplary individuals, school districts, and school projects were honored last night with ZNE School Leadership Awards for their innovation and leadership in driving a new zero net energy (ZNE) standard for school environments in California. ZNE buildings represent high performance buildings that combine energy efficiency and renewable resources to produce at least as much energy as they consume annually. California is leading the nation on ZNE performance in K-12 schools and community colleges with over 40 ultra-low and ZNE buildings operating or under construction.
To showcase leadership and innovation in this market, the state's investor-owned utilities (IOUs), in partnership with the California Public Utilities Commission and other agencies, established the awards and recognition program, now in its third year. New Buildings Institute (NBI) is administering the program on behalf of the IOUs and CPUC.
"Our state is leading the nation in the transformation of our building stock to the highest levels of efficiency and lowest levels of environmental impact," said Martha Brook of the California Energy Commission, who presented the awards during the 2018 Green California Schools and Community Colleges Summit in Pasadena, California. "Nowhere is this achievement more apparent than in our neighborhood K-12 schools and community colleges. This is thanks to the out-in-front, early adopters in this movement, who range from the school administrators, to the building designers and contractors, to the facility management teams, to the teachers and students," she said.
The ZNE School Leadership Award winners were selected by an esteemed judging panel of industry representative and considered based on demonstrated achievement that a project has attained or is on track to achieve ZNE performance, or is providing leadership and a model for others.
The write-up for the Yosemite Community College District Office Building "Outstanding Building" award is here:
Yosemite Community College District – District Office Building, Modesto, CA | ZNE VERIFIED
This project is the result of an inspired team working together to achieve high performance goals and set an example for future projects across the portfolio. The project employed an integrated design and community-driven process to achieve the ultimate ZNE goal. The design team worked together to analyze and verify appropriate energy-efficient strategies and team members contributed at each scope of work. They combined building siting, form, and envelope strategies with efficient mechanical and electrical strategies. Natural air circulation patterns were studied to maximize passive ventilation and the team also started the commissioning process in schematic design and continued through occupancy. The impact of these strategies proved substantial. The building provides an inviting environment that afforded the District the ability to collect all of the central services departments under one roof for the first time for a truly collaborative environment.
for the full press release visit the NBI website HERE
Special thanks to the Yosemite Community College District Staff and Board of Trustees for the opportunity to work on this outstanding project!
Subscribe
Get all the latest posts
Subscribe
Get all the latest posts
Featured Services
We'll See You There
CASH 44th Annual Conference
February 22-24, 2023
We are looking forward to attending the CASH 44th Annual Conference at the Sacramento Convention Center on February 22-24, 2023