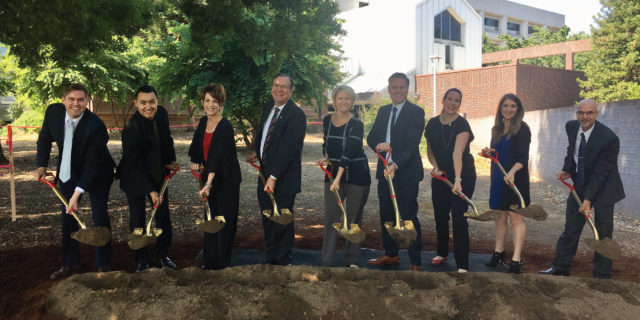 Education
abc30 Action News – Fresno State University breaks ground on new executive classrooms
06/11/18
The Groundbreaking for Darden Architects' project, the Ruiz Foods Executive Classrooms at Fresno State, was recently featured by abc30 Action News:
FRESNO, Calif. (KFSN) —
Soon students at Fresno State will have a new a resource helping them achieve their academic goals. With significant help from Dinuba based Ruiz Foods, the university broke ground on their new executive classrooms. The new state of the art facility will primarily serve students in the senior executive MBA and accelerated MBA programs.
"We have laser projection for crisp images, we have copper coil assisted listening systems, of course, wireless technology," said Martin Dietz Managing partner with Darden Architects.
The Ruiz Foods Executive Classrooms will be built on the northeast part of the Craig School of Business. The two new classrooms will not only give students a better learning environment, but it is also helping with the universities growing demand. Interim Provost Robert Harper said this May they had a record number of students graduate from the business school.
"They don't have to travel or go to school in another part of the country or the state to have that same experience, they can get it right here at Fresno State," said Kim Ruiz Beck, Chairman of Ruiz Foods, Inc…
For the entire article, visit abc30.
Source: www.abc30.com by Gilbert Magallon
*Also check out the related article written by The Business Journal, visit The Business Journal.
You can see more photos from the event on our Facebook page.
Subscribe
Get all the latest posts
Subscribe
Get all the latest posts
Featured Services
We'll See You There
CASH 44th Annual Conference
February 22-24, 2023
We are looking forward to attending the CASH 44th Annual Conference at the Sacramento Convention Center on February 22-24, 2023