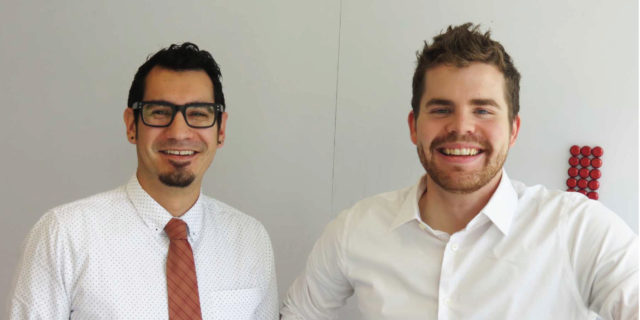 Office Culture
Andrew Corral and Matthew Heiss have been promoted to Associates with the firm
06/01/17
Darden Architects is proud to announce that Andrew Corral and Matthew Heiss have been promoted to Associates with the firm.
Andrew Corral
Andrew Corral has been with the firm since 2004. A native of Fresno he started his career at the firm working part time while he studying for his Bachelor of Science Degree in Construction Management with an emphasis in Architecture, from California State University, Fresno. After graduating in 2010, he began to work full-time assisting other Project Managers. His commitment to continuing his professional development and bettering the firm are remarkable. Andrew quickly became a Project Manager, and has excelled. Andrew is personable and a valuable collaborator, offering his knowledge of construction and technology freely to others in the firm making everyone better.  Andrew is currently managing significant additions planned for Duncan Polytechnic High School in Fresno Unified School District.
Matthew Heiss
Matt Heiss joined Darden Architects upon graduating from California Polytechnic State University, San Luis Obispo with a Bachelor of Architecture.  Matt successfully obtained his California Architectural license in 2016 while working full-time at Darden Architects.  He is passionate about Architecture and the profession.  His design talent, attention to detail and presentation skills enable him to represent the firm with professionalism.  He has a warm and positive attitude that is delightful. Matt is currently the Project Architect managing the design and production for the new High School for Madera Unified School District.
These two individuals represent the values of Darden Architects and our profession, this promotion and recognition for their talent and commitment is important for the growth and continued success of Darden Architects.  Associates in the firm are recognized as trusted decision makers for the firm.
Subscribe
Get all the latest posts
Subscribe
Get all the latest posts
Featured Services
We'll See You There
CASH 44th Annual Conference
February 22-24, 2023
We are looking forward to attending the CASH 44th Annual Conference at the Sacramento Convention Center on February 22-24, 2023