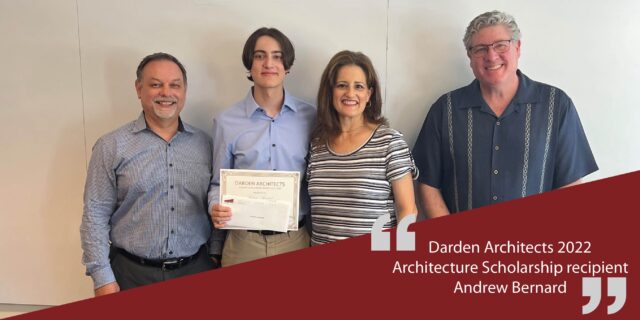 Office Culture
Darden Architects 2022 Architecture Scholarship recipient Andrew Bernard
06/06/22
At Darden Architects, we believe in supporting local growth of the architectural profession. The next generation of architects are our local students today, and we want to encourage and assist these students in pursuing their degree in Architecture. Every Year, the Darden Architects Scholarship Committee selects student(s) originally from Fresno, Madera, Kern, Kings & Tulare Counties, to be recipients of a $1,000 college scholarship. The scholarship is only offered to students who are currently, or will be, attending California Polytechnic State University, San Luis Obispo, and majoring in Architecture. It is our hope that by awarding local students this college scholarship, we will continue to see the Central San Joaquin Valley architectural community grow.
This year's recipient of the Darden Architects Student scholarship award is Mr. Andrew Bernard. Andrew's application was very impressive. He is a graduate of Clovis West High School with a 4.0 unweighted Grade point average. As part of his application, we asked Andrew to submit 2 letters of recommendation:
The math department chairperson at Clovis West said: "Andrew competed in the California Math League Competitions, where he showed a natural aptitude for solving challenging problems." Problem solving is a big part of being an Architect and a Designer. And The English Department Chair said she was "struck by Andrew's curiosity, drive, social conscientiousness, creativity, and commitment to excellence." And when we read that, all of those qualities aligned with our firm's core values.
In his essay Andrew said that he was choosing to pursue Architecture because it incorporates 3 things he loves: Creativity, Problem-solving, and learning. Those are just the qualities that we look for in a young architect. So, we encourage him to keep the passion for those things alive all through university and in his future career. Andrew, on behalf of all of us at Darden Architects, we congratulate you and we wish you all the best at university!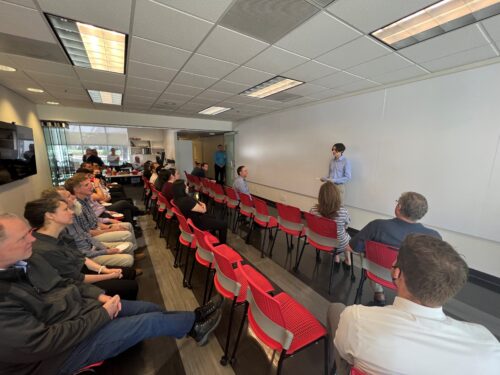 Subscribe
Get all the latest posts
Subscribe
Get all the latest posts
Featured Services
We'll See You There
CASH 44th Annual Conference
February 22-24, 2023
We are looking forward to attending the CASH 44th Annual Conference at the Sacramento Convention Center on February 22-24, 2023