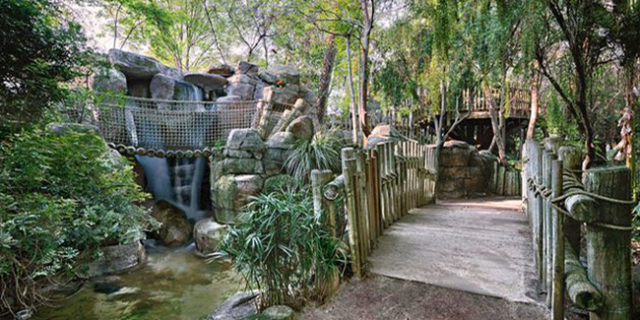 Miscellaneous
Darden Architects honored for Chaffee Zoo rainforest design
06/30/16
More than 25 years after its debut, Darden Architect's design for the rainforest exhibit at Fresno's Chaffee Zoo is still impressing zoo visitors — and judges of quality architectural design.
Darden's blueprint for the Chaffee Zoo exhibit recently won the "Lived Well" award for excellence in design recently at the 2016 American Institute of Architects (AIA) San Joaquin Chapter Design Awards. The "Lived Well" award is for projects older than 20 years that "still exemplify excellence in design."
The Rainforest Exhibit project was completed in 1988 and marked a shift in design at the zoo toward interactive and immersive visitor experience, a direction the zoo clearly continues in today with the opening of its major new exhibit, African Adventures.
The goal of the Chaffee Rainforest Exhibit project, said Phil Dietz, Darden's marketing manager, "was to establish an aviary for a range of South American birds in the form of a walk-through habitat. The project's architecture needed to blend in with the nature setting of the rainforest. In effect, the enclosure needed to disappear so that the visitors would feel immersed in a 'naturally occurring' setting."
The Business Journal, 2016
Article by George Lurie
Subscribe
Get all the latest posts
Subscribe
Get all the latest posts
Featured Services
We'll See You There
CASH 44th Annual Conference
February 22-24, 2023
We are looking forward to attending the CASH 44th Annual Conference at the Sacramento Convention Center on February 22-24, 2023