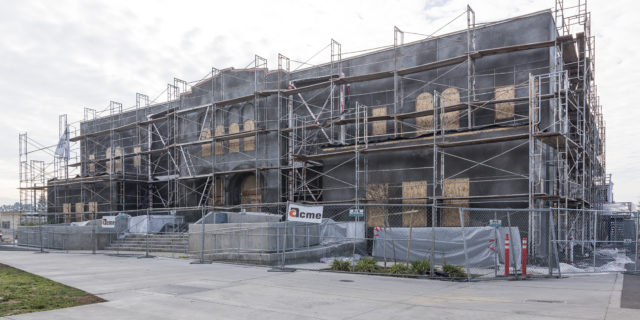 Education
Louise Marchant Gymnasium Renovation Sees New Elevator Installed, Project Almost Complete
07/20/16
Darden Architects' designed project, Turlock High School Louise Marchant Gymnasium Renovation:
Turlock City News.com Story
Turlock High School's Louise Marchant Gymnasium has been undergoing a complete renovation makeover and crews have taken it to a whole other level with an elevator installation. The new addition to the Louise Marchant's girls gym, offers elevator access for people with physical disabilities to enter the second story bleacher seating.
The installation of the elevator marks another step forward in its completion. Throughout the project, the completion of the gym has seen itself hindered due to previous circumstances involving weather and the discovery of dry rot in the gym.
Renovation of the gym includes fixing the problems discovered throughout the process, the sanding and repairing of the hardwood floor, and new brick detailed walls on the outside of the gym.
Source:
TurlockCityNews.com
by Lindsey Rose
Subscribe
Get all the latest posts
Subscribe
Get all the latest posts
Featured Services
We'll See You There
CASH 44th Annual Conference
February 22-24, 2023
We are looking forward to attending the CASH 44th Annual Conference at the Sacramento Convention Center on February 22-24, 2023