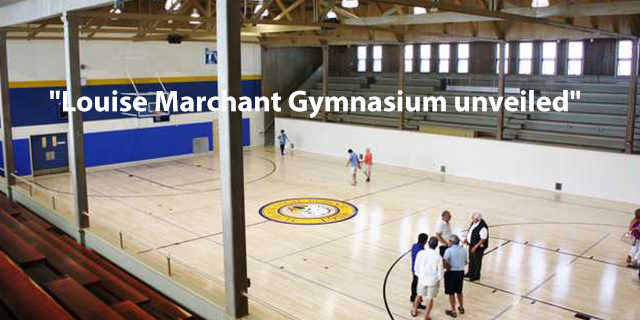 Education
Darden Architects' K-12 Modernization Project: "Louise Marchant Gymnasium unveiled"
09/21/16
Family, friends and many others who were touched by the legacy of Louise Marchant gathered outside the newly-renovated girls' gym at Turlock High School Saturday morning, eager to see the unveiling of its new name: the Louise Marchant Gymnasium. A special dedication ceremony was held, formally naming the campus' renovated building after a former Bulldog who truly bled blue and gold.
"Your presence here confirms the impact that Louise had on many," said Turlock Unified School District Superintendent Dana Trevethan to the large crowd.
Louise graduated from THS with the famous Class of 1944, who accepted their diplomas on June 6 – the same day that the Allied forces stormed the beaches of Normandy during World War II. Louise served as a City of Turlock Planning Commissioner and was a reliable booster and donor to THS sports, Turlock Little League and Turlock Youth Football. She was also known as the "mother of Turlock Youth Football" during the 1990s.
During her years at THS, Louise was a song leader and was also heavily involved in efforts to see that the THS Auditorium, now the Turlock Community Theater, was restored. She is also the only member of the THS Hall of Fame who was not an athlete and was named honorary homecoming queen by the school in 1994.
The Louise Marchant Legacy Committee asked the TUSD Board of Trustees in April to rename the girls' gymnasium after Louise. At the time, it was clear that the Board agreed with the suggestion.
To read more CLICK HERE
Article originally posted at www.turlockjournal.com
By Angelina Martin
Subscribe
Get all the latest posts
Subscribe
Get all the latest posts
Featured Services
We'll See You There
CASH 44th Annual Conference
February 22-24, 2023
We are looking forward to attending the CASH 44th Annual Conference at the Sacramento Convention Center on February 22-24, 2023