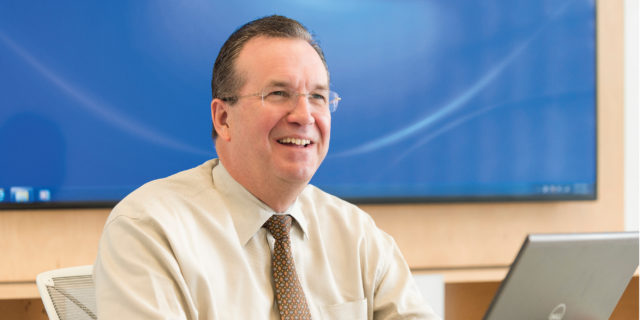 Office Culture
Marty Dietz celebrates 40 years at Darden Architects
08/22/18
Last week we celebrated Marty's 40th anniversary with the firm. Marty's integrity is a standout characteristic. In all interactions he is honest and professional. His high standard of work sets an example to our office and has provided excellent benefit to our community throughout his career.
He has provided architectural services for clients including Fresno USD, Clovis USD, State Center CCD, CSU Fresno, The Fresno Chaffee Zoo, St. Agnes Medical Center, Valley Children's Hospital and many others. Marty has always embraced opportunities to support community Benefit organizations including the Hind's Hospice, The Fresno Rescue Mission, the State Center Community College Foundation, the Business Education Shareholders Compact, and many others. He is a former president of the Fig Garden Rotary Club, the American Institute of Architects San Joaquin Chapter, and Co-chair for the US Green Building Council Central Ca.
Marty is a welcoming and inclusive leader. He looks for the traits in each member of our staff that can be cultivated, with the intention of helping others to succeed. For these reasons and many more, we are glad to have such a terrific leader and congratulate him on this amazing achievement!
For more pictures, check out our FaceBook page.
Subscribe
Get all the latest posts
Subscribe
Get all the latest posts
Featured Services
We'll See You There
CASH 44th Annual Conference
February 22-24, 2023
We are looking forward to attending the CASH 44th Annual Conference at the Sacramento Convention Center on February 22-24, 2023