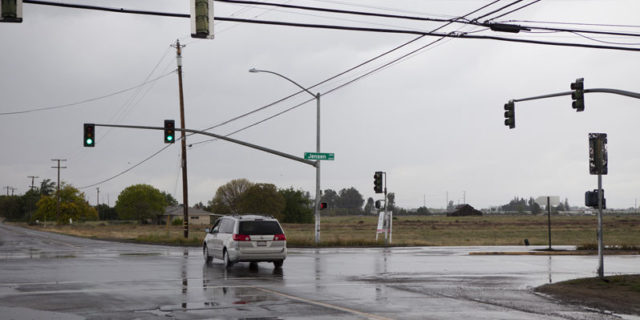 Education
Reedley Exponent: Sanger Unified construction to kick up a notch when new facility breaks ground
07/12/17
Sanger Unified's New Education Complex, designed by Darden Architects, was recently featured on reedleyexponent.com:
Sanger Unified construction to kick up a notch when new facility breaks ground
Ed Goodwin took on the challenge of designing the cornerstone project of what eventually will become one of Sanger Unified School District's most significant properties.
And it wasn't easy. But Goodwin, a principal of Darden Architects Inc. of Fresno, and his team have designed a facility that will meet the immediate needs of the fast-growing district and be malleable enough to adapt to future requirements that, at least at this point, involve multiple phases of new construction.
"It will say Sanger," he said. "Architecturally, it's really simple. But we were able to create some dynamics to the design and its exterior expression."
Dubbed simply Sanger Unified's New Education Complex, the facility at the northeast corner of Jensen and Fowler avenues will have some industrial classroom space with concrete floors, larger doors and enhanced electrical availability to accommodate the needs of career technical education, or CTE, pathways classes. It will also have science classrooms in the two-story section on the south end.
"This was designed with flexibility in mind," said Eduardo Martinez, Sanger Unified's associate superintendent of administrative services.
The complex, with an estimated price tag of about $68 million, may break ground as early as the end of the year. The project sits on 116 acres, bounded by Fowler, Jensen, Church and Armstrong avenues, that eventually will include multiple components and accommodate the district's continued student influx. Design and architectural elements have been completed and submitted to the California Division of the State Architect for design and construction oversight. The agency sent the plans back with comments.
The project highlights a busy year for the school district. Other projects include a new multipurpose room at Jackson Elementary combined with ballfields and play courts in addition to sprucing up the existing facilities, one of which will be getting a huge artistic jaguar painted on the side. The project is expected to cost about $10 million.
"Our hope is that we can start in the fall," Martinez said of the Jackson project.
Source: Reedleyexponent.com, Mike Nemeth, Sanger Herald
Full article here: http://www.reedleyexponent.com/sanger_herald/sanger-unified-construction-to-kick-up-a-notchwhen-new/article_f587d358-5ccf-11e7-801d-130e1a2aa1e6.html
Subscribe
Get all the latest posts
Subscribe
Get all the latest posts
Featured Services
We'll See You There
CASH 44th Annual Conference
February 22-24, 2023
We are looking forward to attending the CASH 44th Annual Conference at the Sacramento Convention Center on February 22-24, 2023