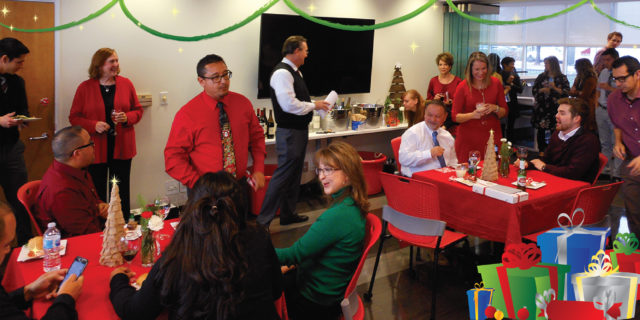 Office Culture
The 2017 Annual Darden Architects Christmas Party!
12/19/17
Last Friday the staff at Darden Architects gathered for our annual Christmas Party! This is always a special time to come together and reflect on the year, laugh and enjoy some good food. Each of the Principals took a role in the program for the party. We began with a delicious buffet and drinks. Marty Dietz provided a welcome message and reminisced about significant accomplishments or events over the last year including:
Darden Architects won best architectural firm for the fourth year in a row, and won best interior design firm in the 2017 "Best of Business Awards" from the Central Valley Business journal.
We watched the solar eclipse this year. This was the first total eclipse in 38 years.
The New YCCD District office won a Design award of merit from the AIA Sierra Valley Chapter
Matt Heiss and Andrew Corral were promoted to Associate this year
Julie Jaurique-Chipps finishes her term as AIA San Joaquin chapter president on Dec 31, 2017
Elizabeth Gregor and William Brandle both got their California architectural licenses, and Suzanne Miller got her NCIDQ Certification
Leslie Rau received the 40 under 40 in the Central Valley recognition from the Business Street Online.
DeDe Darnell was selected as one of the "Top 10 professional women" by the Marjaree Mason Center
Ed Goodwin then presented some Christmas gifts to the Ed and Paula Darden. It is vitally important that we honor the rich history of the firm, and recognize the founders of the organization for their hard work and grit. Afterwards, Mike Fennacy took a moment to recognize our new staff members for 2017 Jeff Smith, Haley Rivera-Gonzalez and Andrew Valles.
A special Christmas video was presented. The team had a lot of fun producing this, and even more fun seeing the uproarious reactions from staff as they watched it for the first time:

DeDe and Tony ran the raffle and gave out prizes to all members of staff. It's always exciting to see what each person receives. Afterwards, we all gathered around the Interior Design Studio layout tables for the gift exchange. As each gift was unwrapped, and often "stolen," the group shared moments of laughter, joy and comradery. We are deeply thankful for our wonderful team, It is a pleasure to work with such outstanding people!
The party concluded with presentation of gifts to the Principals. Each personalized, these tokens represent our thanks for another successful year of leadership, growth and opportunity.
For more photos of the Christmas Party check out the photo gallery on our Facebook Page.
Special thanks to you the reader, we encourage you to sign up for our e-Newsletter to stay in the loop in 2018.
From all of us at Darden Architects, we wish you a Merry Christmas and a Happy New Year!
Subscribe
Get all the latest posts
Subscribe
Get all the latest posts
Featured Services
We'll See You There
CASH 44th Annual Conference
February 22-24, 2023
We are looking forward to attending the CASH 44th Annual Conference at the Sacramento Convention Center on February 22-24, 2023