Education
YCCD New District Office Building wins Award of Merit from the AIA Sierra Valley
10/03/17
We are proud to announce that Darden Architects design project, the new Yosemite Community College District Office Building, has received an Award of Merit at the AIA Sierra Valley chapter design awards.
on Thursday September 21st, representatives from Darden Architects attended the Awards Gala held at Dewz Restaurant in Modesto, California. Awards were announced and recipients were given time to speak about the winning designs. Project Architect of Record, Bob Petithomme spoke about the process of design, and the unique design features of the New District Office building.
Yosemite Community College District has long provided high-level educational opportunities to students throughout Stanislaus County. This District Office Building project addresses how vitally important it is that administrative staff and District leaders conduct operations in a facility fitting this history of excellence.
The 28,400 square foot building is situated prominently along the main entrance to the Modesto Junior College West Campus. The site layout of the building lent itself to the creation of two primary entrances on opposite sides of the building, connected by an ample public foyer. Direct public access was required to the Chancellor's office, Business offices and Board Room.  This could be achieved by arranging these functions along each side of a central public space that could also serve as a central reception and pre-function space.  This space was enriched with an abundance of natural light, redwood accents and granite finishes, strengthening the Office Building's connection to its District. The building draws its aesthetic inspiration from the Sierra Nevada Mountains and Yosemite National Park.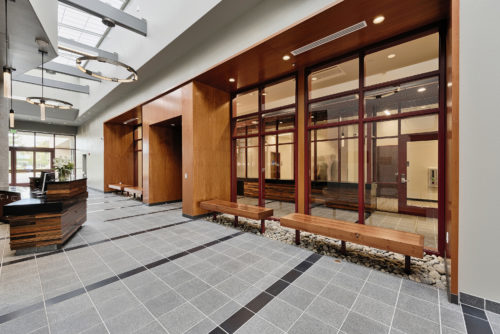 The project offers numerous work space amenities to the administrative staff working in the building. Previously housed in a collection of decommissioned U.S. Army barracks, the message from the early design discussions was clear: this building needed to be a desirable place to work resulting in excellent staff retention and high productivity.  During the development of the design these early project goals lead to the inclusion of a variety of features benefiting the work environment for staff, including operable windows, huddle spaces, natural lighting, and a generous staff lounge connected to an outdoor patio, encouraging socialization. The building also includes a health and fitness room exclusively for staff use. In addition to providing the District Board of Trustees and staff improved accommodations for meetings, conferences and lounge area, the building houses the Information Technology department, Accounting, Payroll, Purchasing and Human Resources.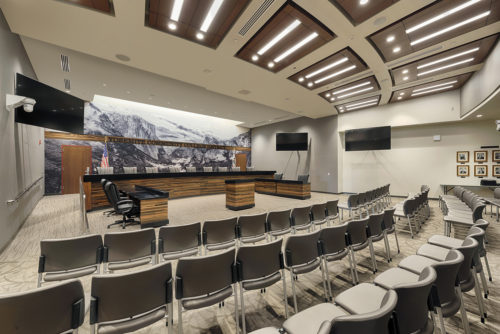 The design was influenced by our California National Parks. The long and rising roof lines are reminiscent of rock cliff outcroppings, and are supported by substantial exterior structural beams.  Approaching from the north, the forecourt offers various "paths of discovery:" walkways through landscaped areas that cross one another, mimicking natural park trails. In time, as this forecourt's landscape matures, it will tell a story with its variety of rock elements and planting and will be a welcome outdoor respite for staff. Beams and sun shades have been latticed across the western entry, casting ribbed shadow lines.
A wall of local Granite runs the entire length of the central horizontal axis of the building, accentuating the connection between interior and exterior. Inspiration for this feature came from the towering rock walls which encircle Yosemite Valley. Monumental interior volumes and prominent structural elements elevate the mountain-lodge inspired design. Throughout the building an organic color palette underscores the unique design aesthetic. The interior space is simple yet elegant. Angular lines contrast pleasingly with the earthy color pallet.  Burnished steel and moss green colors compliment District colors and unify the office appearance with other campus facilities. Reclaimed redwood has been used as an accent material throughout the building. It appears in the facade of the Boardroom dais, the reception desk, seating in the foyer, and in details throughout the building.
This project is on track to receive LEED Platinum certification. This honor is in addition to its projected Net-Zero Energy use. To accomplish these outstanding distinctions, a myriad of design features have been incorporated that actively promote energy efficiency and reduce lifetime operational costs, including: High efficiency thermally insulated glass, Chilled beam HVAC system, Daylight dimming & occupancy sensors, Highly efficient lighting fixtures (LED, CFL, OLED), Motorized windows for ventilation controls, Four EV charging stations, 275 KW solar array, Low-Flow fixtures throughout, and a 7,500 ft3 underground storm water retention infiltration system. The interior utilizes a simple red and green light signal indicating to the occupants when the outdoor temperatures allow the building's exterior windows to be opened and closed for comfort and energy efficiency.
This new District Office building will provide a foundational headquarters for a growing institution. Extensive collaboration between the District and design team has yielded a functional building housing current and future staff needs within a unique and thematically compelling facility. The building will effectively house District staff offices under one roof while maintaining a comfortable workplace flow.  Through needs-sensitive sustainable design, the project team has worked with District staff and stakeholders to create a lasting image for the future of the District.
Special thanks to the Yosemite Community College District for the opportunity to work on this project.
The project team includes:
Construction Manager/Owner Representative – Kitchell
Contractor – Acme Construction
Sub Consultants – Buehler & Buehler Consulting Structural Engineers; Lawrence Nye Carlson; Power and Communications Engineering; Blair, Church & Flynn Consulting Engineers; Robert Boro Landscape Architect.
Check out more about the YCCD New District Office building HERE
Subscribe
Get all the latest posts
Subscribe
Get all the latest posts
Featured Services
We'll See You There
CASH 44th Annual Conference
February 22-24, 2023
We are looking forward to attending the CASH 44th Annual Conference at the Sacramento Convention Center on February 22-24, 2023